Research Week 2019 at St Vincent's Hospital Sydney
News
News and Media

Research Week 2019 at St Vincent's Hospital Sydney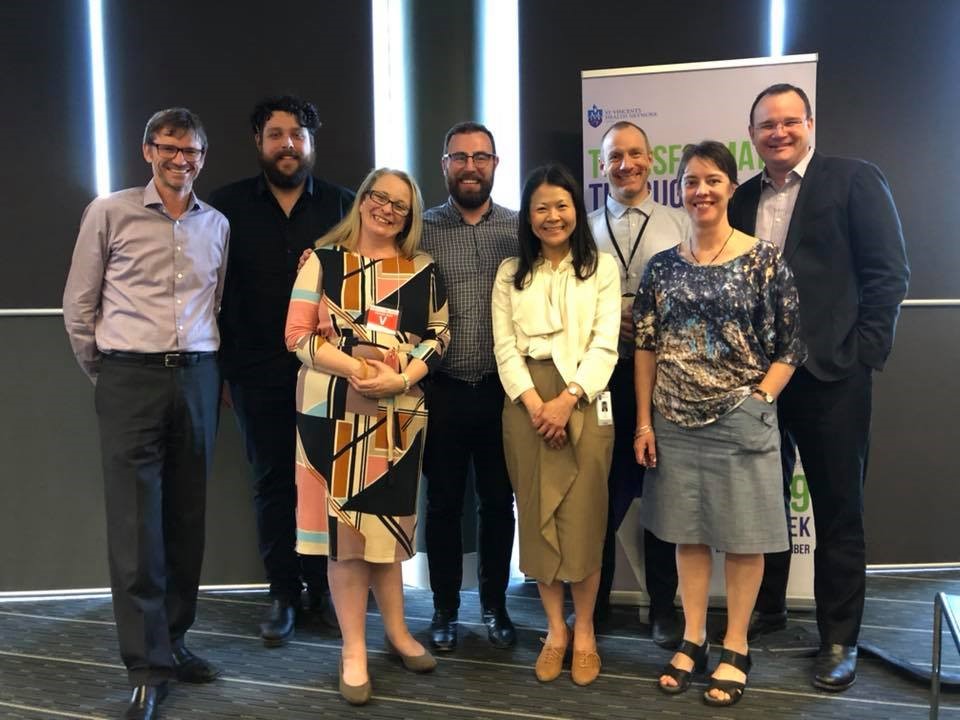 (From left to right) John Willis, Inclusive Health Program, Liam Acheson, Alcohol & Drug Service, Dr Carrie Lethborg, Inclusive Health Program, Brendan Clifford, Inclusive Health Program, Dr Kathy Wu, Clinical Genomics Unit, Prof Niels Buus, St Vincent's Centre for Family Based Mental Healthcare, Susie Welch, Pharmacy Department, Matt Kearney
Research week at St Vincent's Hospital Sydney Campus had a strong Inclusive Health component this year. The week was launched by the Hon Dr Annabelle Bennett AC SC, former chair of the National Health and Medical Research Council, who commended the recent SVHNS Research Strategic Plan for its focus on the poor and the vulnerable. Several IHP funded projects were represented in events such as the "Fast Forward" sessions across the week, and a half-day Symposium on Thursday was dedicated to Inclusive Health. Keynotes addresses at the symposium were given by Prof Niels Buus, Professor of Mental Health Nursing at the University of Sydney and lead of the St. Vincent's Centre for Family Based Mental Healthcare, and by Dr Carrie Lethborg, Manager of the IHP Action Research Centre.
Prof Buus provided innovative real-word examples of how community members and service users are participating in research activities. Dr Lethborg gave an overview of a "Big Data" project, providing insights on identifying priority groups at risk of vulnerability within hospital administrative data sets. Inclusive Health funded research projects from the Emergency Department, Alcohol & Drug Service, Clinical Genomics Unit and the Pharmacy department were presented, and Matt Kearney, Director of Mission, highlighted the role of research in a presentation the SVHNS Inclusive Health strategy. The session was completed with a discussion chaired by IHP manager, John Willis, on how to support and grow Inclusive Health research on the campus into the future. The week ended with another success for Inclusive Health, with Liam Acheson of Alcohol & Drug Service awarded a prize for best poster on an IHP project looking at improving hospital care for people who inject drugs.
Planning is already underway for Research Week 2020, so please contact our Senior Project Officer (brendan.clifford@svha.org.au) if you like to be involved or know more.